Emotional Liberation:
Mastering the Senses of the Soul
With GuruMeher Singh!
An 8 session tele-course, Sept. 13 through Nov. 1, 2010
Mondays, 6 PM Mountain Time, USA, 1 1/2 hours
The last day to register and get a refund is Thurs., Sept. 9
If you can't be with us in person for all these classes, you can get the recordings and the text to study at your leisure! See below.
Click here to translate these times to your time zone.
Click here to register!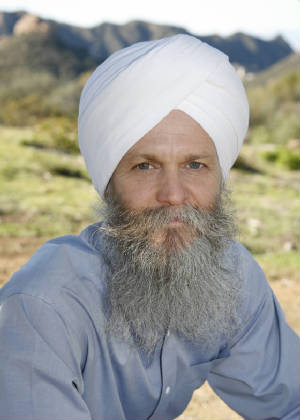 We can easily drown in the watery world of emotions, but they are called the Senses of the Soul because they help us navigate life safely.
Highly sensitive, our feelings are meant to let us know how things are going for us, and let us know what do to avoid pain and find happiness. But the knowledge and skillful use of our sensory system has not been modeled nor taught, so we suffer unnecessarily.
With lack of guidance and misinformation, many good, well-meaning, even spiritual and yogic people misuse or try to ignore their emotions. It doesn't work. This amazing, natural, and vital "equipment" is part of our being which cannot be denied. It's natural intended use for our well-being can easily be learned.
This dynamic and very experiential workshop shows you:
The essential purpose and correct use of emotion
How to switch from emotional burden to emotional power
How to accurately "hear", interpret, and act on the messages of your
emotional senses.
Safe, effective ways to unload the backlog pressure of unprocessed emotions
from the past
How to safely navigate the deep waters of specific strong emotions
The process of conscious use of emotions to return you to peace and
freedom.
The 8 Classes:

9/13 Exploring the Emotional Landscape: Emotional Ignorance and Enlightenment
9/20 Safely Navigating the Watery World of Feelings
9/27 Anger and Resentment: Protecting Yourself
10/4 Fear and Worry: Creating Safety and Security
10/11 Guilt and Envy: Finding the Self
10/18 Sadness, Grief, and Depression: Knowing what you want and need
10/25 Returning to Happiness, Joy, Peace
11/1 Emotional Liberation
$199

Discount, if registered by Sept. 1, 2010

$225


if registered by Sept. 9, 2010.

This is the last day to register,

as well as to get a refund.
Recordings & Text Only
of all 8 Emotional Liberation Tele-Classes that you can listen to anytime. This does not include taking the class in real time, in person on the phone, or give you feedback on your homework, but it lets you complete the course in your own time.
(If you take the full tele-class on the phone, you will also get all of these recordings and text with your class registration!)
$199
Bio:
GuruMeher Singh Khalsa began studying under Yogi Bhajan in 1980, and has been teaching Kundalini Yoga ever since. He is the Director of Teacher Training at Yoga West, Yogi Bhajan's original studio in Los Angeles. He travels to train teachers in Level 1 and 2 programs internationally, and works with the Aquarian Academy to train the next generation of teacher trainers. As a professional Life Coach, he helps people identify and transform personal blocks to their happiness and fulfillment, and as a public speaker introduces non-yogic audiences to body-mind-spirit training. GuruMeher, which means "compassionate teacher", brings passion for the teachings to inspiring learning experiences.

Life Coaching - Yogic Training - 310-788-0339 - gurumeher@earthlink.net