Would you believe that we have two most talented cooks and KY teachers named Atma Kaur?

and the other is on the
West Coast in California--"Atma West"

Now, I am so very happy to present their gorgeous recipes as I receive them. Both of them have lovely newsletters! Why not check them out?
Yogi Tea!
Another amazingly satisfying Ayurvedic Healing remedy to cleanse and rejuvenate your body, including your nerves.
Get the Yogi Tea habit! Substitute for coffee, black tea and chai to improve your health. Yogi Tea is even used to detox from drug use.
"Black pepper is a blood purifier. Cardamon is for the colon. Together, they support the brain cells. Cloves are for the nervous system. Cinnamon is for the bones. Ginger adds flavor, is strengthening to the nervous system, and is very good if you are suffering from a cold, flu or any physical weakness. Milk aids in the assimilation of the spices, and avoids irritation to the colon and stomach. The black tea in the recipe acts a a catalyst for all the other ingredients. Herb tea will not work in its place."
From "Foods for Health and Healing: Remedies and Recipes" based on the teachings of Yogi Bhajan. p. 45.
4 quarts water
2 T. cardamon pods, broken open
1 1/2 t. peppercorns, whole
2 3/4 t. whole cloves
6 cinnamon sticks
3" fresh ginger, peeled and grated or chopped
3 t. black tea leaves (e.g. Lipton)
Milk or milk substitute such as soy, rice, almond or hazelnut milk (available at a health food store).
This recipe will make one gallon of tea base, which you can keep refrigerated until ready to use. To prepare the tea base, put all the ingredients except the milk and black tea in a large pot. Cover the pot and simmer water and spices together for one hour on low heat. Then add the black tea leaves and let it steep in the tea base. You can let the tea sit overnight to make it extra flavorful, thick and smooth. Then strain off the spices and keep the liquid in the refrigerator. When you are ready to have a cup of tea, just mix 1 part milk to 2 parts tea base. Bring it to a boil, watching that it doesn't boil over if you use real milk rather than a milk substitute. Sweeten with honey, agave, or stevia for the most amazing flavorful and satisfying hot beverage that will actually upgrade your health!
You can get all these spice ingredients very economically at your Indian or Middle Eastern grocery store. They may be fairly expensive if you buy them in those little spice jars in a regular grocery store!
You can also order a bag of the spices already mixed proportionately from http://ahw.stores.yahoo.net/11020.html . But be sure to add extra fresh ginger to add that great spark, and good for your nerves!
Recipe for Bulk Yogi Tea
From Ravi Har Singh, Espanola, NM
Here's a recipe for making Yogi Tea from bulk spices. You will need a scale to weigh the ingredients. This makes about a cup of bulk mix, which we boil in 6 quarts of water for 1 3/4 hour, then let it steep overnight before straining and putting in the refrigerator. Multiply the amounts (in grams) times 3.64 to produce a pound of mix. We buy the following bulk spices from Frontier: Bulk Cinnamon Chips, Bulk Ginger Root, Cut & Sifted, Bulk Cardamom Seed Decorticated Whole, Bulk Cloves Whole, Bulk Peppercorns Black.

Ingredients

Cloves

Peppercorns

Cinnamon

Cardamon

Ginger

Totals

Percentages of Total

6%

6%

50%

14%

24%

100%

Potent Potatoes
From "Atma East"

This recipe has its roots in the tradition of yogic cooking. The spices help to purify the blood, stimulate digestion, and increase energy. You may decrease the amounts of pepper and cayenne to suit your taste.
4 large baking potatoes
¼ -½ cup (65-125 ml) ghee or vegetable oil
2-3 onions, chopped
¼ -½ cup (65-125 ml) ginger root, minced
¼ teaspoon caraway seeds
1-2 Tablespoons (20-40 ml) garlic, minced
1 teaspoon black pepper
¾ -1 teaspoon turmeric
1 teaspoon cayenne or crushed red chilies
8 whole cloves
½ teaspoon ground cardamom
¼ teaspoon ground cinnamon
2 - 4 Tablespoons (40-80 ml) soy sauce
or salt to taste
½ pint (500 ml) cottage cheese
Optional:
½ pound (225 gr) cheese, grated
1 red or green bell pepper, diced
½ cup (125 ml) chopped pineapple, drained

Scrub potatoes, rub with small amount of oil and bake at
400° F (200° C), until well done. Heat ghee or oil in large
skillet. Sauté onions and ginger until they begin to brown,
then add garlic and spices and cook for 4-5 minutes longer.
Add a little water if necessary. Add soy sauce (optional).
Stir and remove from heat. Cut baked potatoes in half,
lengthwise. Scoop out the insides and combine with onion
mixture. Add cottage cheese. Mix well and refill potato
shells, covering each with grated cheese. Broil until cheese
is melted and bubbly. For a nice touch, garnish with bell
pepper and pineapple. Serve with yogurt. Serves four.

Golden Milk
From "Atma West"
Golden Milk is a great way to get your daily dose of turmeric. Turmeric is used by yogis for flexibility of the spine and stiff joints.
1/8 tsp. turmeric
1/2 cup water
1 cup milk (dairy or soy - original recipe is with dairy milk)
2 T almond oil (optional)
honey

Boil water and turmeric in small saucepan over medium-high heat, for 8 minutes (the turmeric must be fully cooked). Meanwhile, bring milk and almond oil to boiling point in separate saucepan and remove from heat. Combine the two mixtures and add honey to taste.
Recipe is From Vegtables with Love by Siri Ved Kaur Khalsa

Mung Beans and Rice, "Kicharee"



Mung beans are small, cylindrical beans with a dark green skin. They are used whole or split and hulled. This food is a real star of the yogic diet. They are compatible with pretty much anyone, and very easy to digest, especially as compared to larger beans. They have astringent and sweet qualities, a cooling energy and are a good source of vegetarian protein.

They detoxify the blood and neutralize toxins. By neutralizing toxins throughout the body, they are able to calm the mind, relieve hypertension, clear the accumulation of excess cholesterol and other lipids from the veins and arteries of the body, and promote the healing of all diseases. The combination of mung beans, rice and ginger is cooling and rejuvenative for stress disorders.

Kicharee is the most famous nutritive and convalescent food of Ayurveda (an Indian system of medicine, compatible with yoga and which includes medicinal diet). It is a gruel, cooked to butter-soft consistency. The stew is considered pre-digested and is usually very mildly spiced. It will contain, perhaps, a little pepper, and a little cumin. Kicharee fills the bill for amino acid balance with beans and grains. It is regularly recommended for a deep cleansing. Mild spices often include all the six tastes to balance the recipe.


For example, coriander and cumin seeds have warm, spicy energy and benefit the lungs and spleen for better assimilation and transformation of food into energy. Turmeric, with its bitter and pungent tastes, is well known for its liver detoxifying and blood and energy circulating properties, that help to prevent stagnation and relieve pain.

You can easily get all these ingredients at an Indian or Middle East grocery store. They are most economical there as well. And if you get a large bag of delicious and aromatic basmati rice, you can use it often, especially in combination with steamed vegetables. Yum!



Rejuvenating Stew (Kicharee)


1/2 cup basmati rice
1/2 cup lentils or mung beans
6 cups water
2 Tbs. ginger root, peeled and grated
3 cloves garlic, chopped
1/4 cup onion, chopped
1/2 tsp. coriander seed, powder
1/2 tsp. turmeric powder
1/8 tsp. fennel seed
1/8 tsp. cumin seed
1 cup assorted vegetables (carrot, zucchini, broccoli, etc.),
chopped.
1 Tbs. ghee (clarified butter--milk solids removed when butter is melted)
Salt to taste, if desired.

Place rice, lentils or pre-soaked mung beans, water, and spices in soup pot. Bring to boil. Cook covered on medium heat. After 30 minutes, add vegetables. When very soft and mushy, stir in ghee and serve.




Originally published in the Vitality and Stress Manual by Kundalini Research Intstitute

Jaalaa Jeera, Spring Tonic and Weight Loss Tea

From KRI, received March 10, 2010
These ingredients are available at an Indian or Middle Eastern grocery store.
1 lb. cumin seeds
1 oz. tamarind
Black salt—sulphur salt—only a little, strong odor, optional.
½ lemon per 10 oz. water
Peppermint leaves
8-10 c. water

Put all the ingredients in a pot, boil, then simmer on low for 4 to 5 hours. Save in the refrigerator. Drink hot or cold.
Once you make a batch, you can use the boiled seeds again for your next batch.
Drink 2 to 3 glasses of this tea per day for fat and skin beauty (2 glasses), and digestive system. It cleans mucous from the colon. Tamarind is rich in Vitamin C, 1 oz. = 100,000 units.
This tea can be used by anyone, male or female who has fat on their body. If you take 2 to 3 glasses per day, all your fatty tissues will be dissolved, and it won't let fat deposit anywhere in your body.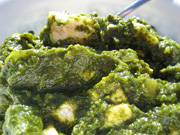 Saag Paneer
From the KRI Newsletter, Dec. 2010
To Make the Paneer:
---
1/2 gallon milk
juice of 2 lemons

Put milk in saucepan and bring to boil. Add juice of 1 lemon for each quart of milk. Stir, and allow to boil another few seconds. When curdled, strain through cheesecloth and squeeze liquid out to achieve desired consistency. (For vegetable dishes like saag it should be very dry.) Make the paneer at least 3 hours before you begin the saag.


To make the Saag Paneer
---
5 bunches mustard greens
2 onions, finely chopped
2 tsp. turmeric
2 Tbsp. cumin
2 Tbsp. coriander
1 tsp. salt
1/2 tsp. crushed red chiles
5 ripe tomatoes, peeled
1/2 cup ghee
1/4 tsp. black pepper

Rinse mustard greens thoroughly, then coarsely chop. Set to boil for at least 2 hours. Check the water periodically to avoid scorching. Place in blender and blend until smooth. Then pour into a large saucepan and continue to cook over a medium flame.

While the mustard greens are boiling, remove paneer from cheesecloth and set on a board. Kneed it as you would bread until it is smooth and soft. Roll it out with a rolling pin to a thickness of 1 inch. Then use your hands to shape the paneer into a 1 inch thick rectangle. Cut paneer into 1 inch cubes. Heat ghee or oil in a fry pan and deep fry paneer until golden brown. Set aside.

Saute onions in ghee or oil over a medium high heat until brown. Add spices and saute a few minutes longer. Then add tomatoes and crushed chiles and cook until saucy. Add to cooked greens with 1/4 cup ghee and cook until the extra water has cooked out and the saag is thick. Add in paneer. Salt to taste. Serves 4-6.

Black Grams
(Black Chickpeas)
Here are few things that I heard Yogi Bhajan say about these amazing beans cooked in this special way:
They are very powerful--when originally grown in the Preuss Road area of Los Angeles by Sikhs many years ago, lightening would strike the fields because of their great high energy.

Traditionally serve these after someone dies--on the 40th day after their death.
Click below to get Yogi Bhajan's original recipe that was written down by Guru Simran Kaur Khalsa, Custodian of the Ranch in Espanola, NM where Yogi Bhajan lived the last decades of his life. All of these ingredients are available at an Indian or Middle Eastern grocery store. Black salt has a very distinctive taste--not like regular salt.
Click here to download Yogi Bhajan's Original Black Grams recipe